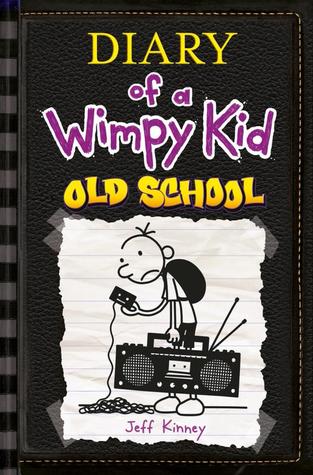 HOME SCHOOL BOOK REVIEW
Book: Diary of a Wimpy Kid #10: Old School
Author and Illustrator: Jeff Kinney
Publisher: Harry N. Abrams, 2015
ISBN-13: 978-1419717017
ISBN-10: 1419717014
Related websites: http://www.wimpykid.com (series), http://www.amuletbooks.com (publisher)
Language level: 1
(1=nothing objectionable; 2=common euphemisms and/or childish slang terms; 3=some cursing or profanity; 4=a lot of cursing or profanity; 5=obscenity and/or vulgarity)
Recommended reading level: Ages 8 – 12
Rating: ** 2 stars (POOR)
Reviewed by Wayne S. Walker
Disclosure:  Many publishers and/or authors provide free copies of their books in exchange for an honest review without requiring a positive opinion.  Any books donated to Home School Book Review for review purposes are in turn donated to a library.  No other compensation has been received for the reviews posted on Home School Book Review.
For more information e-mail homeschoolbookreview@gmail.com .
Kinney, Jeff.  Diary of a Wimpy Kid #10: Old School (published in 2015 by Amulet Books, an imprint of Abrams, 115 W. 18th St., New York City, NY  10011).  As you may know, Greg Heffley lives with his Dad, Mom, older brother Rodrick, little brother Manny, and now their pet pig.  And when they raised the rent at Leisure Towers, his mom invites his Grandpa to move in too.  Greg is in middle school and says, "And to be honest with you, I feel like I've been in middle school FOREVER."  Perhaps some readers may feel that way too.  Anyway, Mom, Dad, and even Grandpa all tell Greg about the "good old days" and how things were so much better when they were kids.  Greg doesn't think so, but to escape punishment following an unfortunate incident, he changes his mind and decides to join his class on a week-long camping trip at Hardscrabble Farms where no electronic devices and no junk food are allowed.  With rumors of an old demented farmer named Silas Scratch roaming the woods at night and eating campers, will Greg find a way to survive? Or is going "old school" just too hard for a kid like Greg?
Sigh!  Just what this nation needs—more Middle Eastern jihadist refugees flooding our borders and more "Wimpy Kid" stories flooding our bookshelves.  Actually, the books are not quite that bad, but you know those annoying robo-call companies that tell you "press 9 to be on our no-call list," but even after you've pressed 9 over and over they still keep calling and calling?   Well, I've asked the publisher to stop sending me "Wimpy Kid" books to review because I don't enjoy them, but they continue coming anyway.  Don't get me wrong.  The books aren't necessarily evil or subversive.  The biggest actual objections I could find to Old School is the statement that "human beings have EVOLVED" with an accompanying illustration of "monkey to man" evolution, and Greg's being told, "Chloe thinks you have a cute butt!"  Pretty mild, huh?  Some people may find Greg's life story humorous, and there is an occasional funny moment now and then, but for the most part any humor somehow escapes me.  In fact, I have noticed in other reviews that people who claim to like the books are saying that as the series has progressed, each book seems to be less and less funny.
Here's a review that probably encapsulates the opinions of those who like the books.  "I would recommend Diary of a Wimpy Kid: Old School. This is an immensely popular series. Greg Heffley is ultimately a good kid. He doesn't always make the right decisions, but there is usually a consequence as a result. Greg's flaws are what make him easy to relate to, and to empathize with. After all, making mistakes is part of growing up. Greg might be stuck in middle school forever, but that just means that we can continue to appreciate his experiences during those awkward years between childhood and adolescence."  However, the following review pretty well represents my feelings.  "I read this book thinking it would be a fun read. I absolutely despise the Diary of a Wimpy Kid books. They teach you nothing and are all about Greg's stupidity. Throughout all the books, Greg is in middle school. He should have graduated by now. Greg is a selfish, lazy, greedy kid. He is a jerk to his family and his one friend Rowley.  (Rowley is a sweet kid and he doesn't deserve a friend like Greg.)  Overall, I would definitely not recommend this series."